Skip to end of metadata
Go to start of metadata
Results Reporting

The OnePacs system allows radiology assistants the ability to enter results reporting information without the need to open the reporting dashboard. Users with the "Enter results reporting info" permission are allowed to right click on a study with a completed report and select the "Reporting" and "Results reporting" context menu options to begin to enter the results reporting information.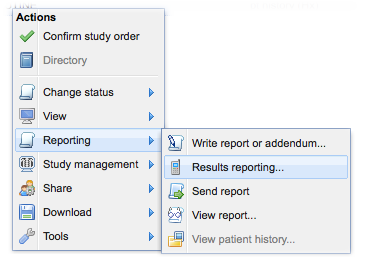 The reported results information can be entered into the screen that opens.

Options for telephone and report receipt confirmed exist for various workflows.  If the "Issue report addendum" option is selected an addendum to the report will be issued which will permanently record the results reporting and invoke report distribution.