Skip to end of metadata
Go to start of metadata
Report Distribution Methods
Finalized reports entered on the OnePacs System may be distributed through a variety of means:
Instant online access - Referring physicians and other authorized users may log on to the OnePacs system and review reports online (PDF and print options are available)

Facsimile transmission - Reports may be sent via fax

Secure web link - HIPAA-compliant web links (URLs) to open reports in a web browser, may be transmitted via email

HL7 - Interfaces such as HL7, DICOM or custom report delivery (PDF, SR Structured Report, Secondary Capture) are available as a paid feature

PDF downloads
---
Report destinations and distribution rules
Report destinations are configured to where and how the report should be delivered.  Distribution rules are used to configure when a particular destination should be used.   For example, a report destination configure a facsimile destination at the phone number 15555555555. A distribution rule would configure that all reports from facility B should be sent to that facsimile when the report is completed.
Report destinations and distribution rules may be created or edited by selecting the "Report distribution" option from the "Admin" menu in OnePacs.  
Creating Report destinations
After clicking on the "Destinations" tab, you may create one or more destinations to which reports may be transmitted, either manually, or through automatic distribution rules.
Destination types currently include:
Emailed notifications of new available reports, with web links to open the reports in the OnePacs system

Full-text report emails (working with OnePacs to ensure secure delivery is necessary when patient health information is involved)

Facsimile

HL-7 distribution
When creating a new reporting destination, a name for the report destination is first assigned, and a destination type is selected from a drop-down menu:

Next, select if the destination is used for either the initial report or for addenda. Typically both should be selected.
To create an emailed report link destination, for example, two parameters are set: The destination email to which the report should be sent, and a customized first line for the report link email.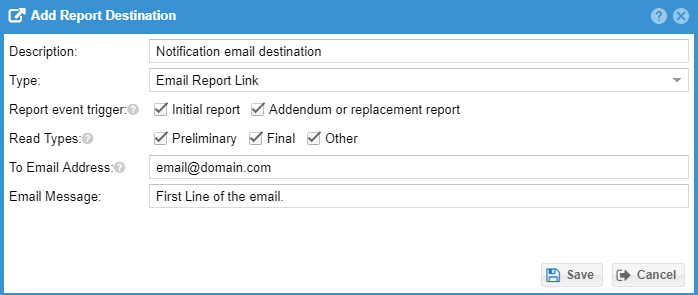 Report destination types
---
Emailed report notifications
Email report links send a HIPAA compliant email with links to view the study and the report with a OnePacs account.  The recipient of the email receives notification of the patient's initials, age, examination type, study date and time, and performing imaging center.
Facsimile
Subscribed versions of OnePacs may establish facsimile numbers as destinations. When reports are transmitted by facsimile, faxes are transmitted direcly from dedicated fax servers in the OnePacs server cluster via the telephone network in a HIPAA-compliant fashion.
---
Full report emails
It is also possible to transmit full OnePacs reports to destination email addresses as an attachment. The attachments are in PDF format. This is for research and educational use where it may be acceptable to transmit reports through regular, unencrypted channels. For clinical use, use of the full-report email feature should be coordinated with OnePacs to ensure secure, regulatory-compliant email transmission.
---
Email-to-fax solutions
By combining the full report email function with a third-party email to fax service, it is possible to transmit reports via facsimile without subscribing to the OnePacs report transmission by facsimile feature. If a group does wish to send faxes through this method, it is necessary (in the United States) to ensure the arrangements are compliant with HIPAA, or (in other countries) to ensure compliance with local patient information privacy regulations. Please ensure that any such arrangements are fully vetted by your security and legal teams to ensure proper compliance. OnePacs can not vouch for the compliance of third party vendors.
---
HL7 integration
HL7 integration for direct report upload into medical information systems is available as a paid feature of OnePacs. Please contact OnePacs for further details.
Distribution rules
Distribution rules configure when a report destination should be used. If all the conditions configured in the destination rule are satisfied the destination will be preselected to be used.  Otherwise, if the facility matches one of the selected facilities but other configurations are not satisfied, the selected destination will be available but not preselected when the study is either confirmed or a report is completed.
Downloading a PDF Download
Reports can be manually downloaded in PDF format from the worklist or when viewing the report.   
Export when viewing the report
When viewing a report you can click on the export buttons on the top toolbar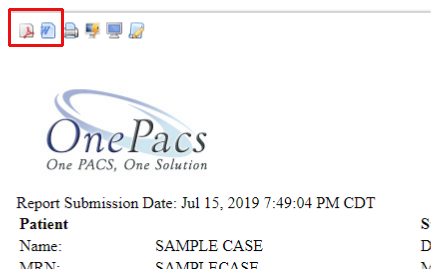 Users with the Download DICOM permission
Single Report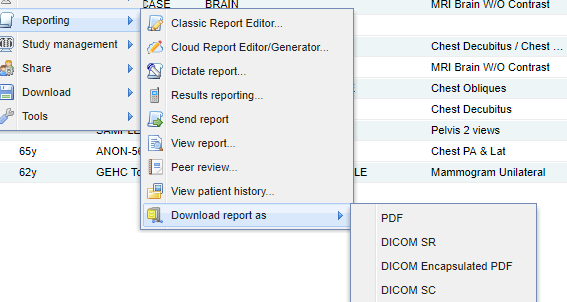 On the worklist right click on the case and select Reporting → Download Report As → and select the format that is desired (PDF, DICOM SR, DICOM Encapsulated PDF, DICOM SC).  
Multiple Reports

Select multiple studies with reports.  Click Manage → Download Report As → and select the format that is desired.