Skip to end of metadata
Go to start of metadata
OnePacs Facility Directory Information system
OnePacs offers a facility directory management system, which assists radiologists or groups servicing multiple facilities by providing a way to share contact information.
The directory may be accessed through the directory icon at the upper right hand corner of any OnePacs system web page, by clicking the directory icon available at the top of the Reporting Dashboard, or by right-clicking on a case within a worklist and selecting the "Directory" option.
Users can select a facility for which they have access at the top of the window to switch between facilities and view the configured contact information.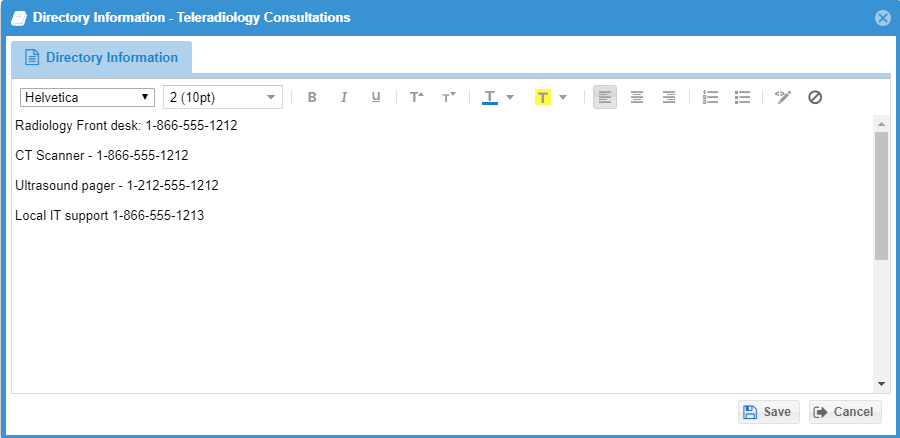 Users with the Edit Directory Info, Manage Facilities, and Administrators will see an "Edit" button at the lower right hand corner of the Directory Info window. Clicking this button allows the user to edit the contents of the directory information window, and immediately see the results.
When the directory feature is invoked from within a reporting window or by right-clicking on a case, the Directory information window automatically selects the sending facility for the selected case.
A parallel facility-specific contact information management system is available in the study confirmation window, used by technologists to confirm study orders. The study confirmation system keeps track of names and phone numbers of ordering physicians/clinicians, and offers technologists one-click selection of ordering physicians in the course of study confirmation.
This directory may also be accessed by radiologists or users with the "Confirm Study Order" permission by selecting the "Confirm Study Order" option for a case.