Skip to end of metadata
Go to start of metadata
Gateway study retrieval policies are applied at the gateway transmission computer which sends studies to OnePacs.
These policies are used by the gateway, through its interface with external PACS systems, at the time a study is sent to OnePacs, to attempt to search for and retrieve additional relevant studies (e.g., "priors") for the same patient.
To configure related study retrieval policies, use the Admin -> Related Study Matching -> Gateway Study Retrieval Policies menu option.
To manage a related study retrieval policy, use the Add, Edit, and Delete buttons at the bottom of the list

When creating a gateway retrieval policy select a study matching policy and set a max results that should be retrieved.   You can also check to include up to a certain number of unmatched studies less than a certain age since the study date if relevant studies do not fill the max results.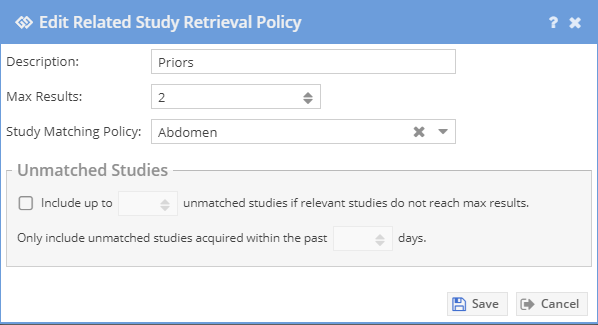 Link the gateway study retrieval policies to a facility under the DICOM tab in the facility details.    Save the facility.